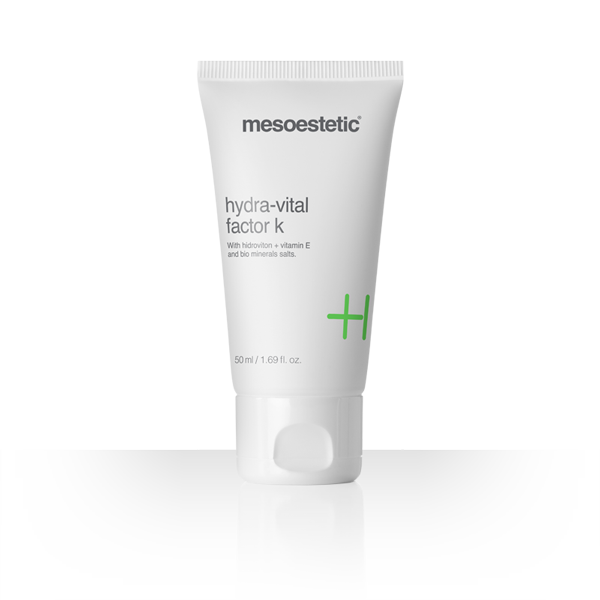 Mesoestetic Hydra-vital Factor K
---
Ultra-hydrating cream especially indicated for restoring smoothness and elasticity to dry or damaged skins. Its exclusive formulation maintains the hydration of the stratum corneum and replenishes the hydrolipidic film. It ensures the protection of the skin against external aggressions, neutralizing the free radicals responsible for premature aging.
Benefits of Mesoestetic Hydra-Vital Factor K:
Protects against water loss to maintain moisture levels

Plumps & smoothes the skin

Suitable for all skin types, particularly dry skin
Suitable for all skin types especially those suffering from dryness and sensitivity this unique formula helps to keep the skin hydrated for 24 hours creating a protective film, which prevents trans-epidermal water loss.
ACTIVE INGREDIENTS:
Hydroviton Natural ultra-hydrating complex consisting of a mixture of amino acids, urea, allantoin, sodium lactate and mineral bio-salts.
Amniotic fluid Moisturizer that diffuses easily through the skin.
Silicone oil Forms a protective film that prevents transepidermal evaporation.
USE: 
Its use is recommended as part of a rehydration session following mesoéclat, cosmelan, mesopeel and dermamelan treatments, or any other treatment involving temporary skin dehydration.
DIRECTIONS: 
Apply over the treated area with a gentle massage until its complete absorption. Finish by protecting the skin with moisturizing sun protection.