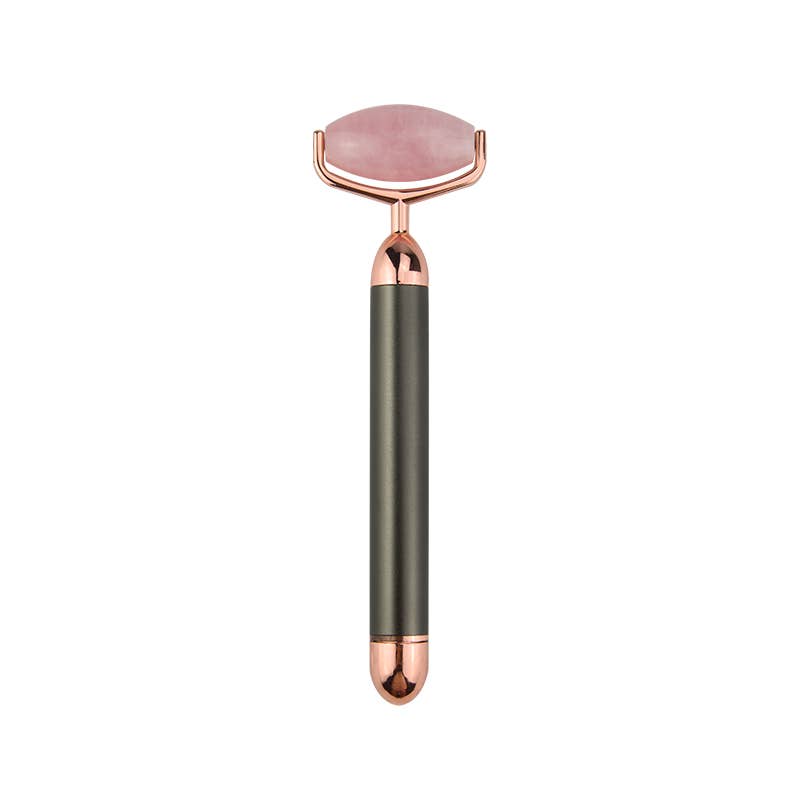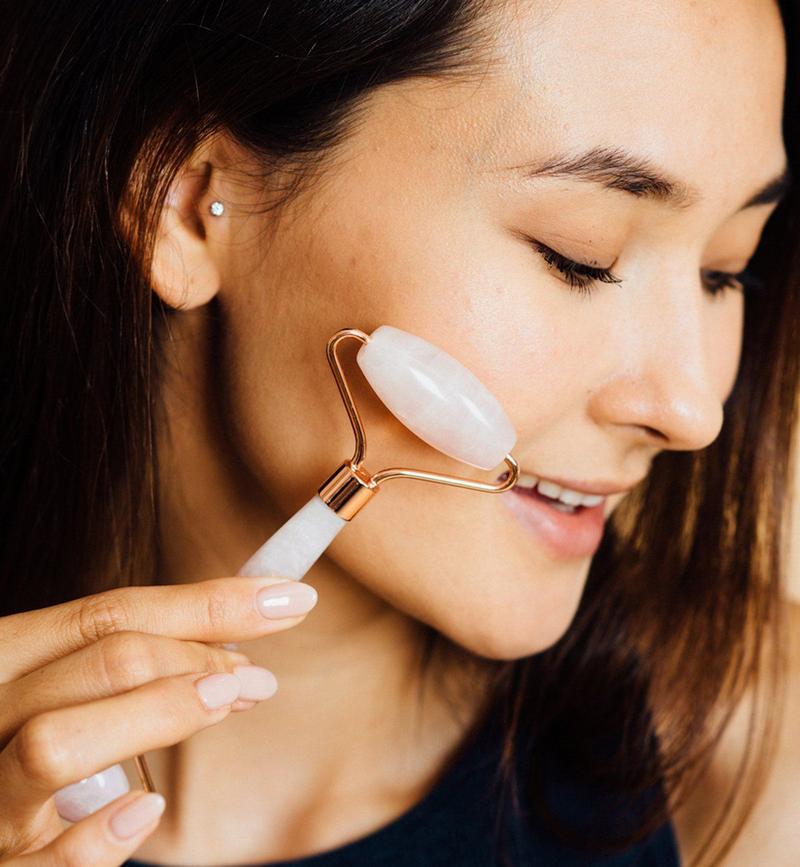 Roll-On Rose Quartz Vibrating Face Roller
---
How does this differ from a typical jade roller or gua sha tool? The main difference is sonic vibrations while you roll. Our roller emits 6,000 sonic vibrations per minute — the perfect combination of ancient wisdom and modern advancements if you ask us.
This technology amplifies the benefits of traditional face rolling which include relaxed facial muscles, reduced puffiness, and the temporary reduction of the appearance of fine lines and wrinkles. Your skin feels more toned, lifted, sculpted, and refreshed.
W-Sonic Technology: 6,000 sonic vibrations per minute, With W-Sonic technology it will enhance massaging with this roller that will help to drain puffiness and unwanted toxins, contour the face and help smooth fine lines and wrinkles. Use it over masks and creams to increase product absorption.
Batteries are not included Hand-crafted Rose Quartz.
Benefits:
Helps instantly contour and reduce facial puffiness.

Promotes lymphatic drainage. Helps tighten and reduce the appearance of pores. Works to improve skin texture and tone.

Provides a calming facial massage and cooling sensation for stress relief.

Minimizes the appearance of dark under-eye circles.
Hand-selected from the purest, sustainably harvested rose quartz in Brazil.
USE: Sonic vibrations are pretty safe, so you can incorporate them into your routine once or twice a day without issue. Expert always recommend sculpting for 10 to 15 minutes in the morning — it will help iron out sleep wrinkles and also de-puff and sculpt the face prior to makeup application. Feel free to vibrate again at night for another 10 to 15 minutes, if you want to. It's important to use these tools on clean skin; some of the materials can cause discoloration if they interact with leftover makeup. It's a good idea to apply a serum before massaging to help the tool navigate the contours of your face without pulling on the skin.
DIRECTIONS: Glide Rose Quartz Roller over target areas. Use wider end on face, neck, and body. The narrow end is designed for use under and around the eye area. Can be used throughout the day as desired. Use after topical skincare application to maximize benefits.
How to Turn On/Off:
TURN ON: Rotate base counterclockwise until vibration starts.
TURN OFF: Rotate base clockwise until vibration stops.
Pro Tips:

Store your Rose Quartz Roller in the fridge to help keep puffiness at bay. The stone is naturally cool, but the soothing effect of the chilled rose quartz is an at-home, spa-level experience.
Store your fave beauty products next to your stone to absorb its energy.
Keep your stone close to you throughout the day to release stress and negative energy and promote positivity.
MADE OF: Due to natural variations in the stone, your roller is individually unique in color and pattern.
How To Clean Your Roller:
To clean your Rose Quartz Roller, Use soap and water, wipe gently with a damp cloth, and towel dry after each use.