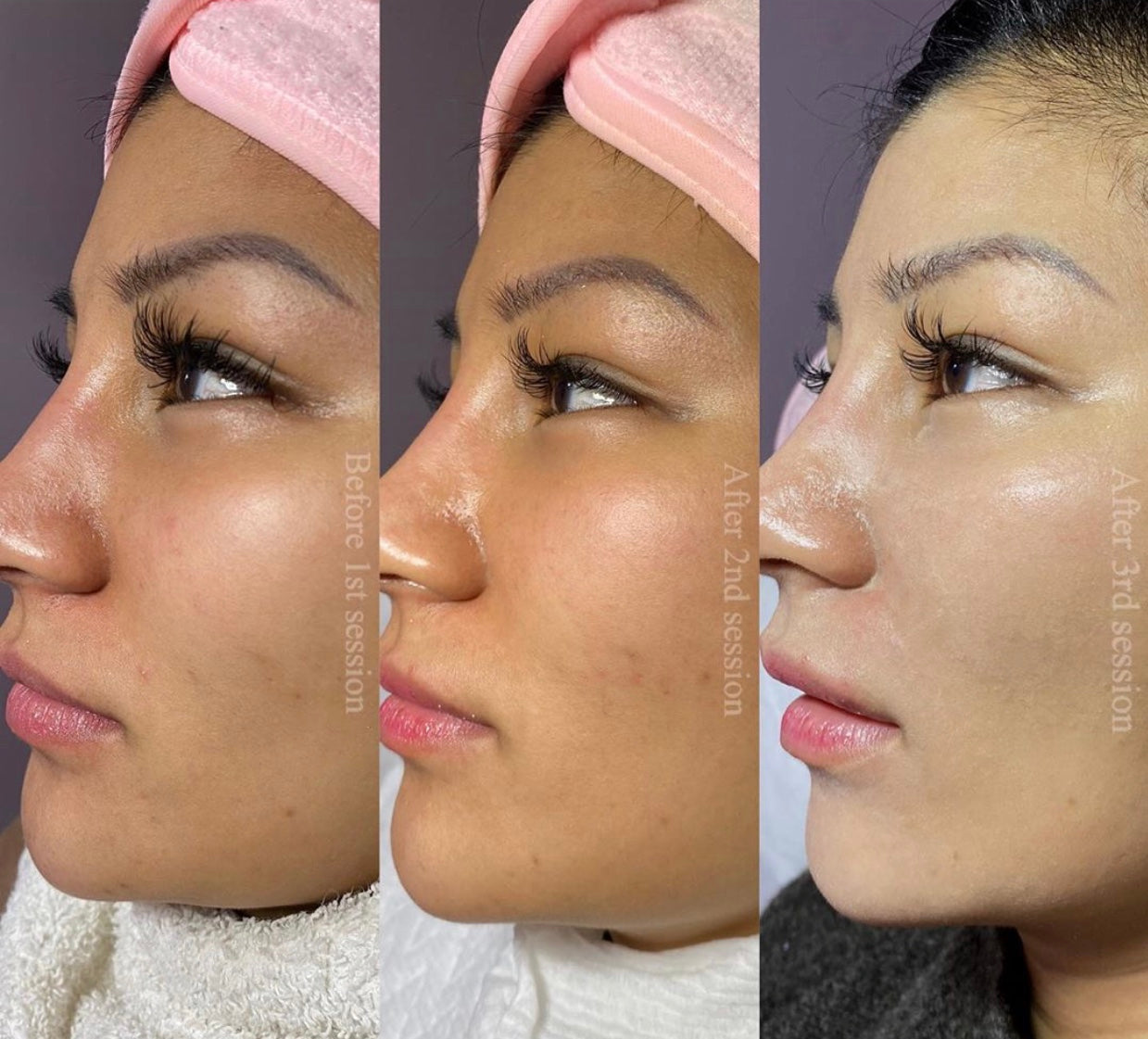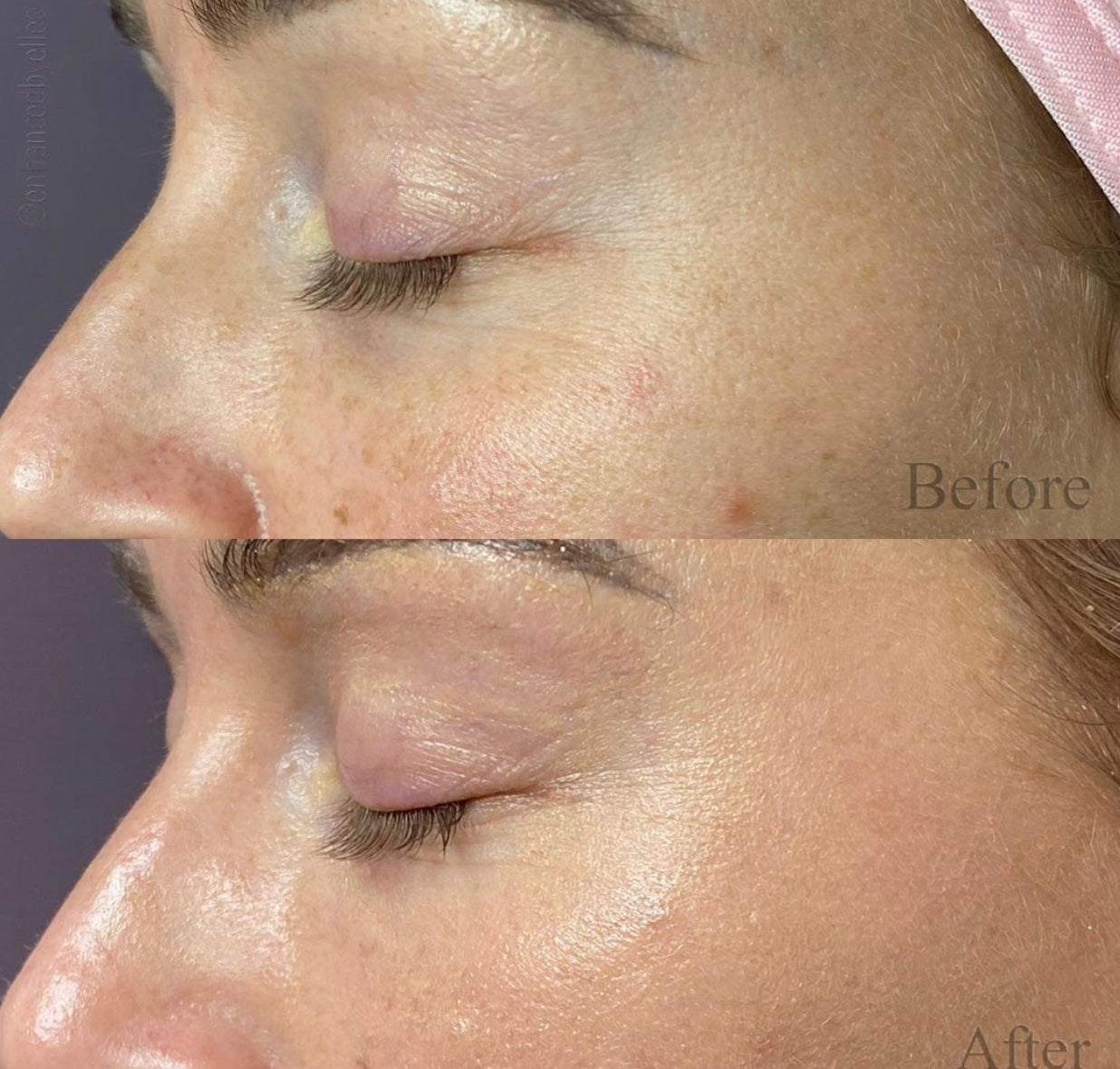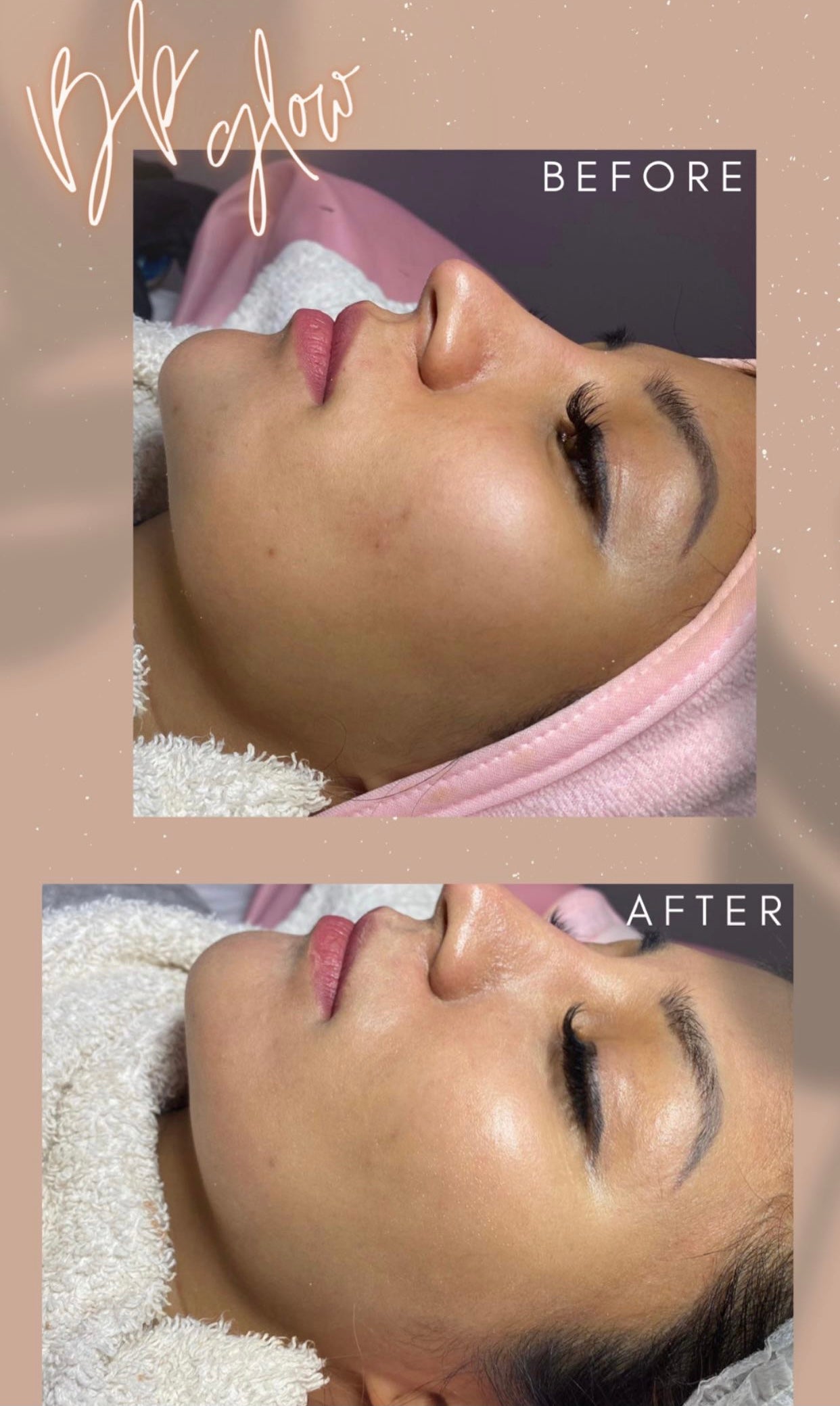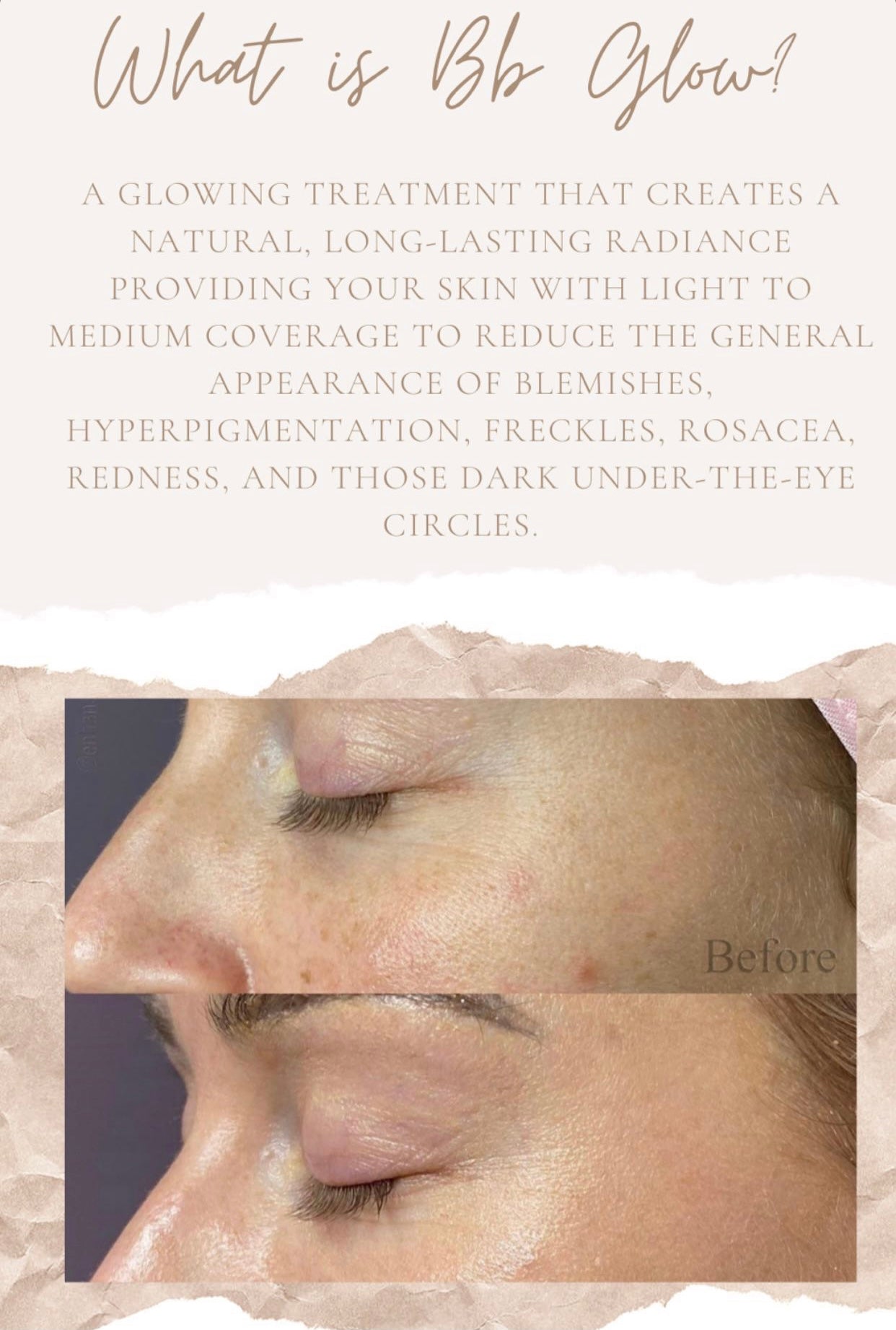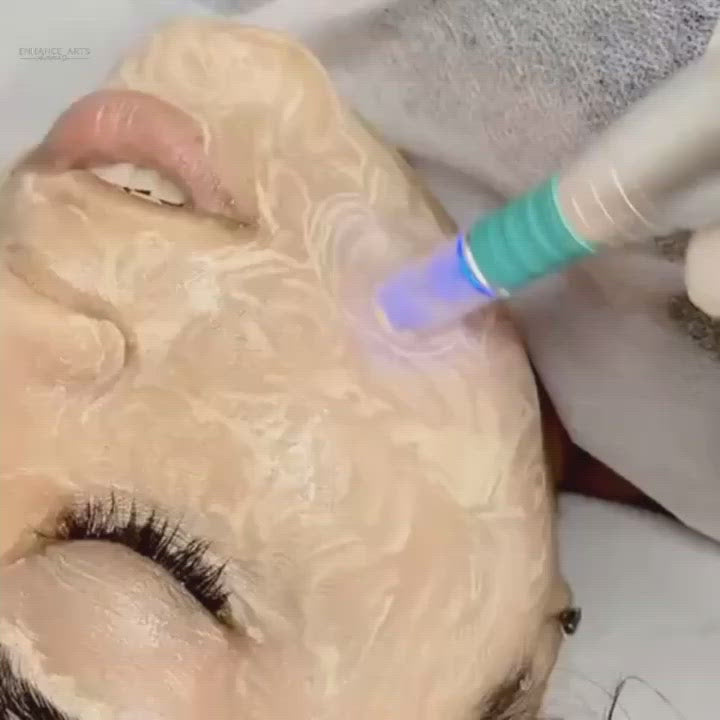 BB Glow - Semi Permanent Foundation
---
Time to Glow up! A glowing treatment that creates a natural, long-lasting radiance providing your skin with light to medium coverage to reduce the general appearance of blemishes, hyperpigmentation, freckles, rosacea, redness, and those dark under-the-eye circles. This treatment consists of BB serum with colour pigments, peptides and vitamins that are gently implanted beneath your skin, using a colour that is matched or mixed to perfection with your skin. With precision and care, this facial treatment will exude a natural brightness and brilliance, with an overall natural glow.
What's nice about a BB glow treatment is that there's no downtime and you can instantly see the result after one treatment. Some people don't feel the need to apply a concealer or foundation after the treatment.  
Enhance your treatment, select one of the following:
Hydrojelly 

 

®

 

Mask ($25) – The Hydrojelly® masks are a new generation of peel-off masks.  Hydrojelly is infused with electrolytes and primarily made from beneficial algae.  The mask creates a vacuum-like seal to push all the nutrients into the skin from the Daily Botanical Serum.  It enables a deeper and complete absorption of the nourishing ingredients.  This intensive facial gives a luxurious texture while being a potent skin moisturizer.
Post-peel crystal fibre mask HIGH-TECH SOLUTION BY MESOESTETIC® ($120)  - Latest-generation face mask designed to enhance the cell renewal process, restructure the hydrolipidic film and increase the skin's moisture levels. It is made from crystal fibre material for medical use based on 3D nano-fibres, and is 100% natural, safe and hygienic. It adapts perfectly to the contours of the face, having an occlusive effect that improves the permeability and carrying efficiency of the active ingredients.

Facial Boosters ($100-$150)

 

- 

 

Antioxidant treatment containing vitamin A, which acts on the formation and maintenance of skin tissues, preventing the formation of free radicals. Retinol or vitamin A is a liposoluble vitamin involved in the formation and maintenance of epithelial cells and the development, protection and regulation of skin and mucous membranes. It stimulates fibroblasts, inhibiting collagen degradation and facilitating neoangiogenesis by fibronectin.
YOUR SKIN BEFORE BB GLOW: The struggle against fine lines, uneven skin tone, and breakouts can seem like a never-ending battle, but it's one we all struggle with. Age, hormones, our diet, UV rays and more can all impact the health and vibrancy of our skin. 
YOUR SKIN AFTER BB GLOW: BB Glow is not only great at covering up your facial skin flaws, it will also hydrate your skin, reduce fine lines and wrinkles, reduce the appearance of under-eye dark circles, and reduce blackheads and clogged pores
RESULTS: The great thing about BB Glow is that you will see immediate results. If you are a first-timer, the results can last 3-7 days. All first-timers should come back for a 2nd session in about two weeks to get further coverage. To maximize the effectiveness of BB Glow, it's recommended that you start with a series of 3-4 treatments, once every 2-3 weeks. After the initial series, the results of your BB Glow treatment can last up to 4 months or longer. With proper maintenance, the effect can last even longer.
DURATION: 1.5 hours
PROCEDURE: We start by cleaning your face and giving a light facial. Application of BB GLOW Serums ampoules will be applied to the whole face using a derma pen machine. You will feel a slight tingle sensation but it shouldn't hurt. After the process, we will clean your face again, apply a cooling face mask (you may request mask enhancement upgrades for this step). We finish the treatment with a LED light therapy session to target extra problem areas and help with the redness.
DOWNTIME: Zero downtime. Slight redness for certain skin tones.