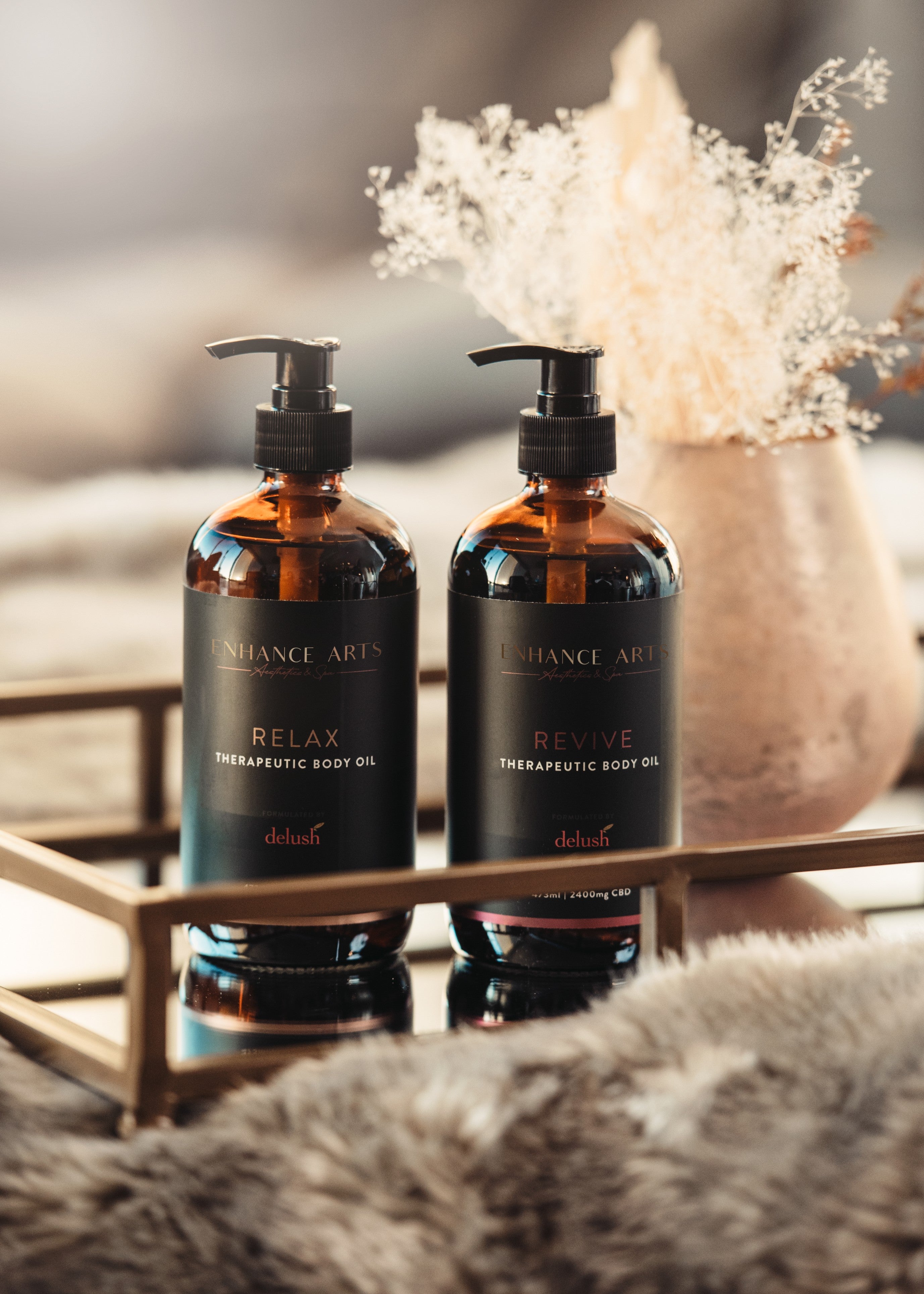 CBD Enhanced Treatment
---
Indulge in the ultimate sensory journey with our enhanced, calming, and soothing CBD experience. Unlike its cousin THC, CBD won't take you on a "high" adventure. Our premium Hemp-derived Cannabidiol (CBD) brings you the best of nature's therapeutic properties, without the mind-altering effects.
In collaboration with Delush CBD, we've crafted an exclusive blend of essential oils and CBD infusion that will immerse your senses in pure bliss. Picture yourself enveloped in a cocoon of tranquility as potent antioxidants, essential fatty acids, and healing properties work their magic on your mind, body, and soul.
Prepare for this eco-luxe treatment by savoring our in-house CBD tea, a tantalizing sip that sets the stage for your serene journey. Your mind and body will drift into a state of deep relaxation, ready to embrace the healing touch that awaits you. Our skilled therapist will lavish your body with our exclusive massage oils infused with the transformative powers of CBD.
This enchanting fusion of CBD and luxurious oils, enriched with nature's anti-inflammatory Arnica extract, becomes your ticket to tranquility. Watch as inflammation subsides, anxiety melts away, pain eases, and tension dissipates, leaving you floating in a sea of serenity. To maximize the benefits and absorption of CBD, we recommend taking it easy for the rest of your day. You'll carry the sensation of relaxation with you for hours to come.
Discover the first luxury CBD treatments in Vancouver and immerse yourself in the sensory wonders of our massages. Each of our luxury therapeutic body oils contains a generous 2400 mg of full-spectrum, lab-tested, paraben and sulfate-free, hemp-derived CBD. Harnessing the powers of Arnica and Vitamin E, renowned for their restorative and anti-inflammatory properties, our oils provide a truly indulgent experience.
Step into two distinct sensory experiences with our Relive and Relax massage oil options, exclusively available at Enhance Arts. Let your senses guide you on a journey of pure relaxation and rejuvenation.
Book your CBD-infused massage today and unlock a world of blissful sensations.