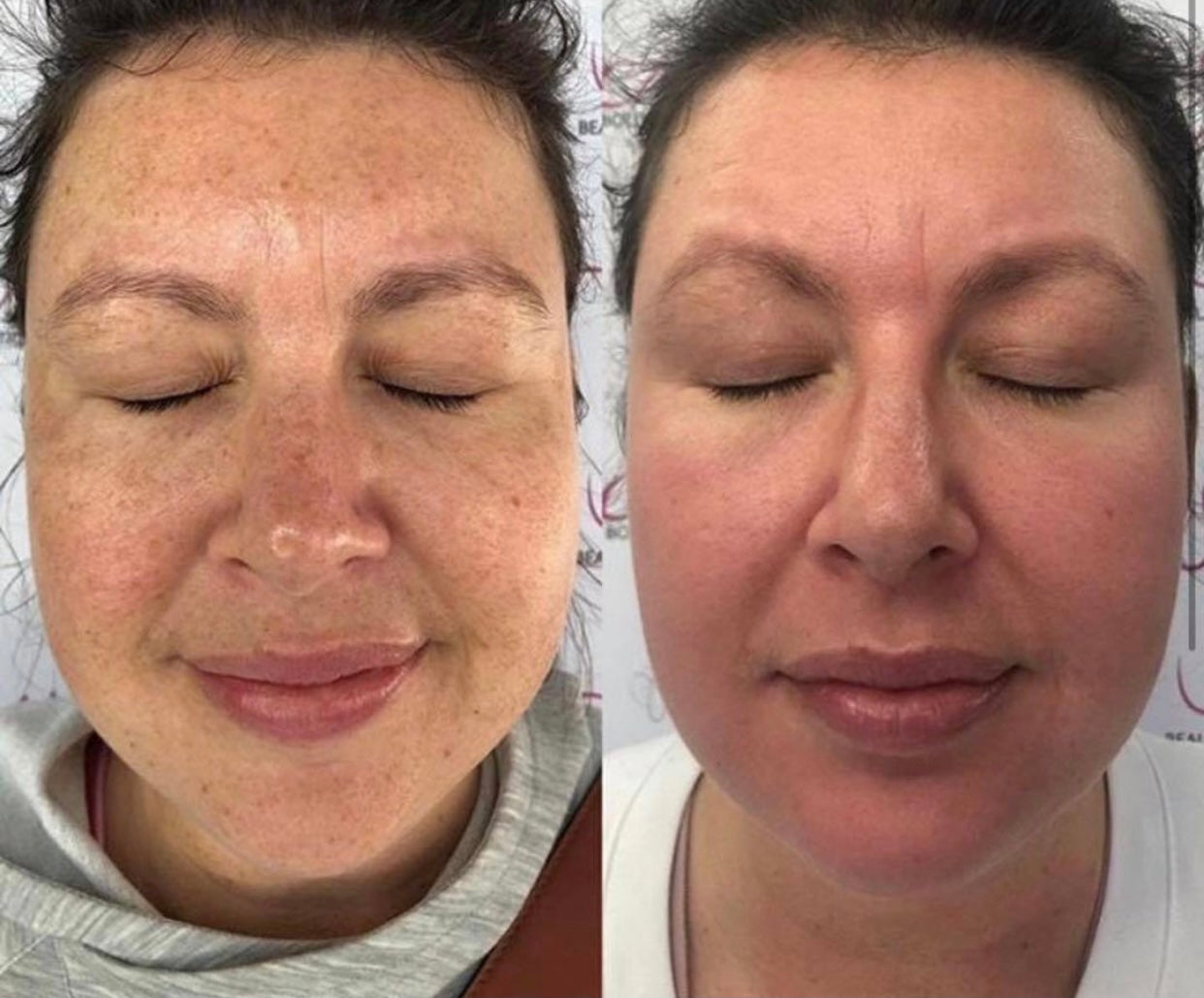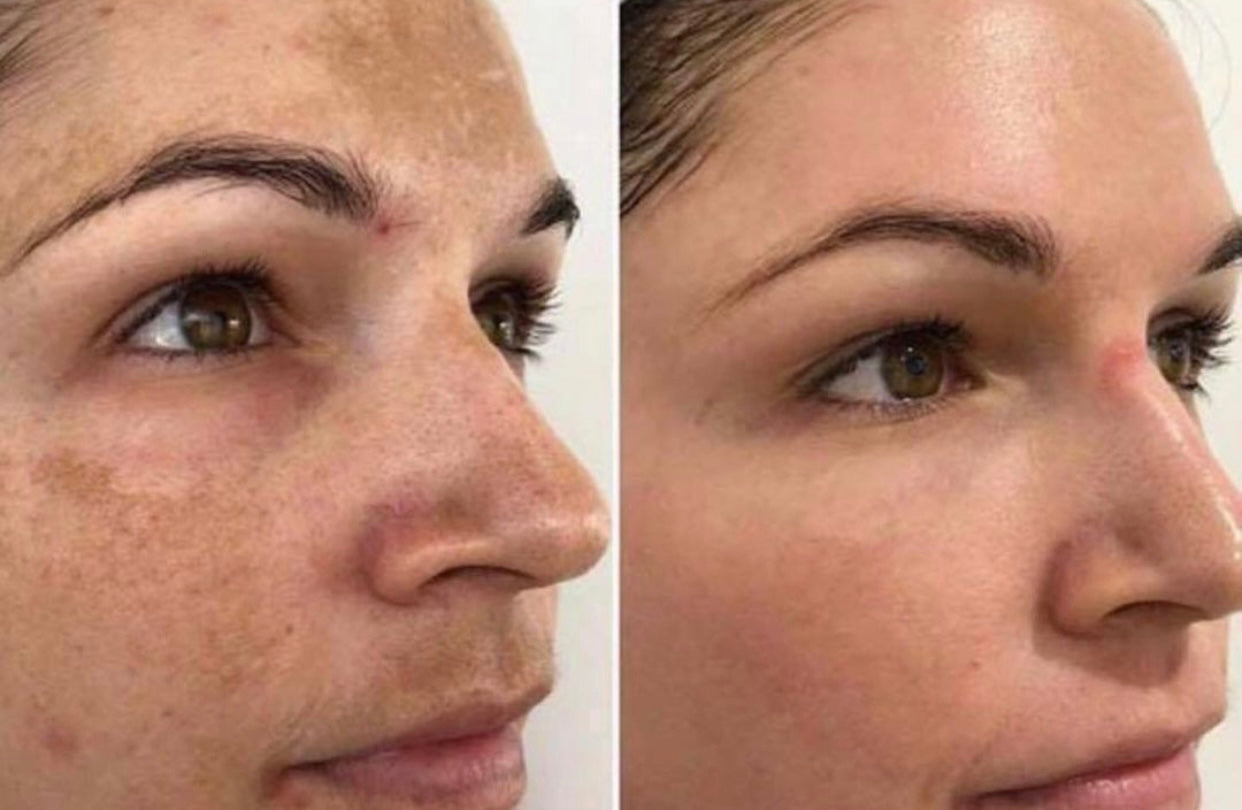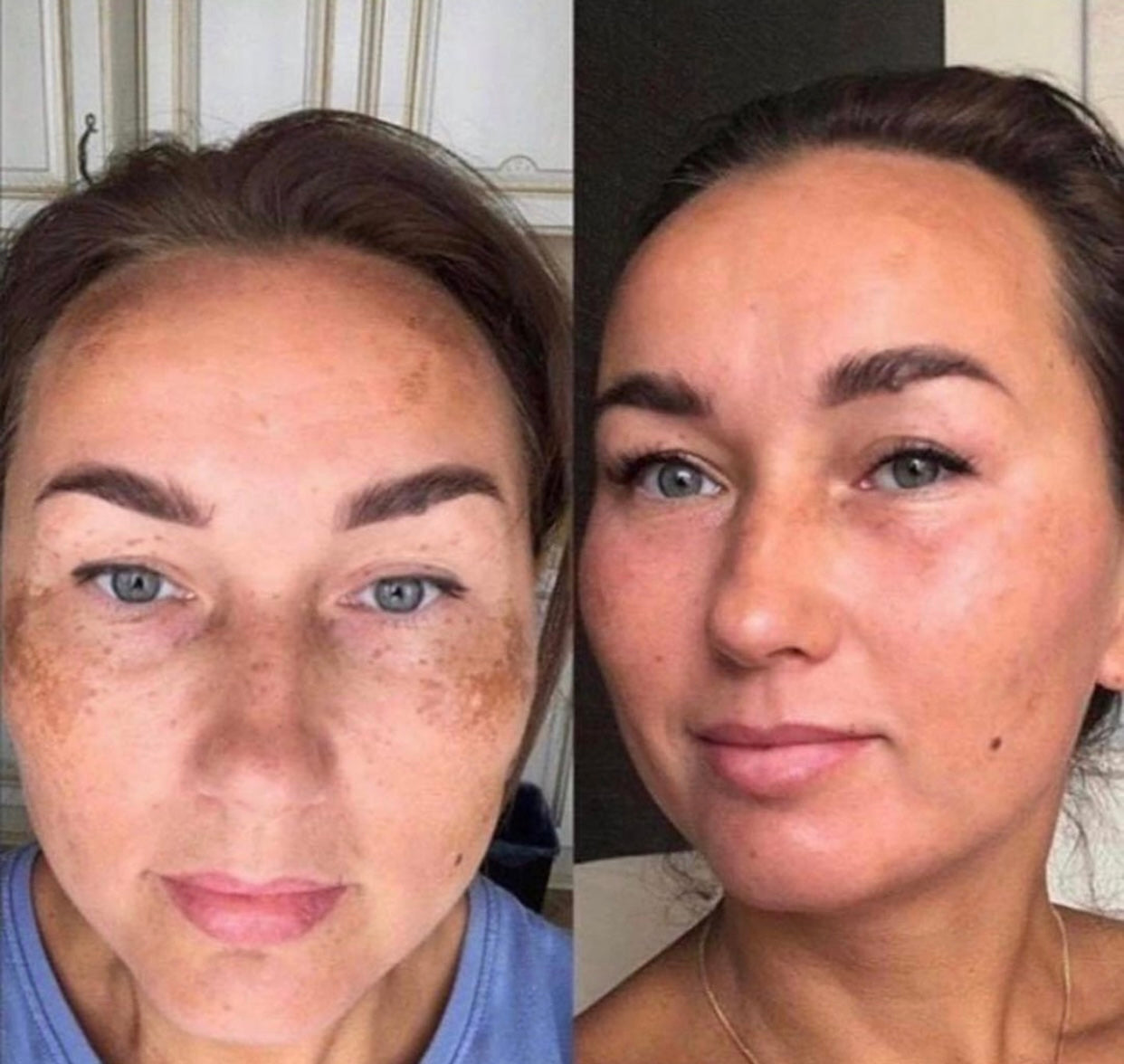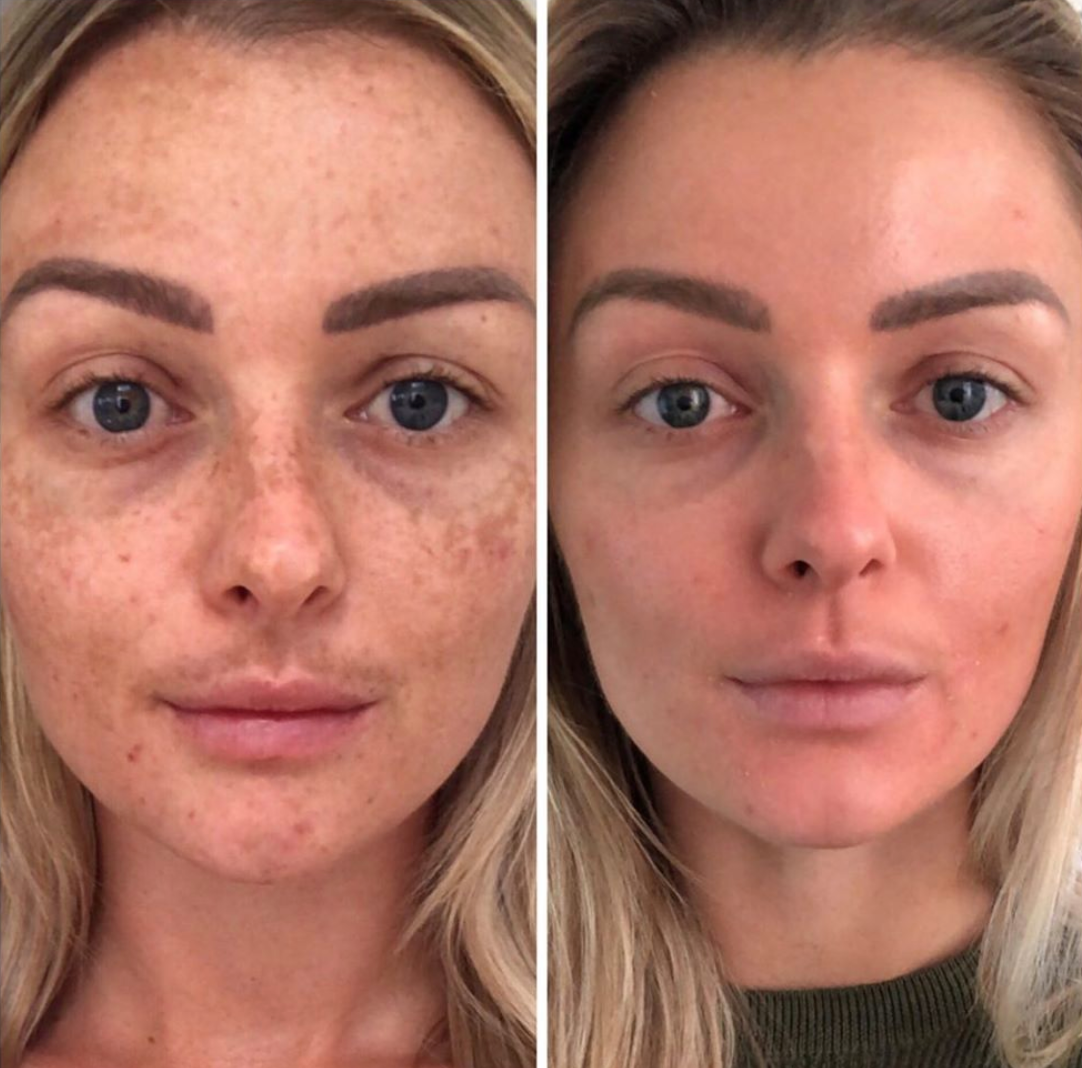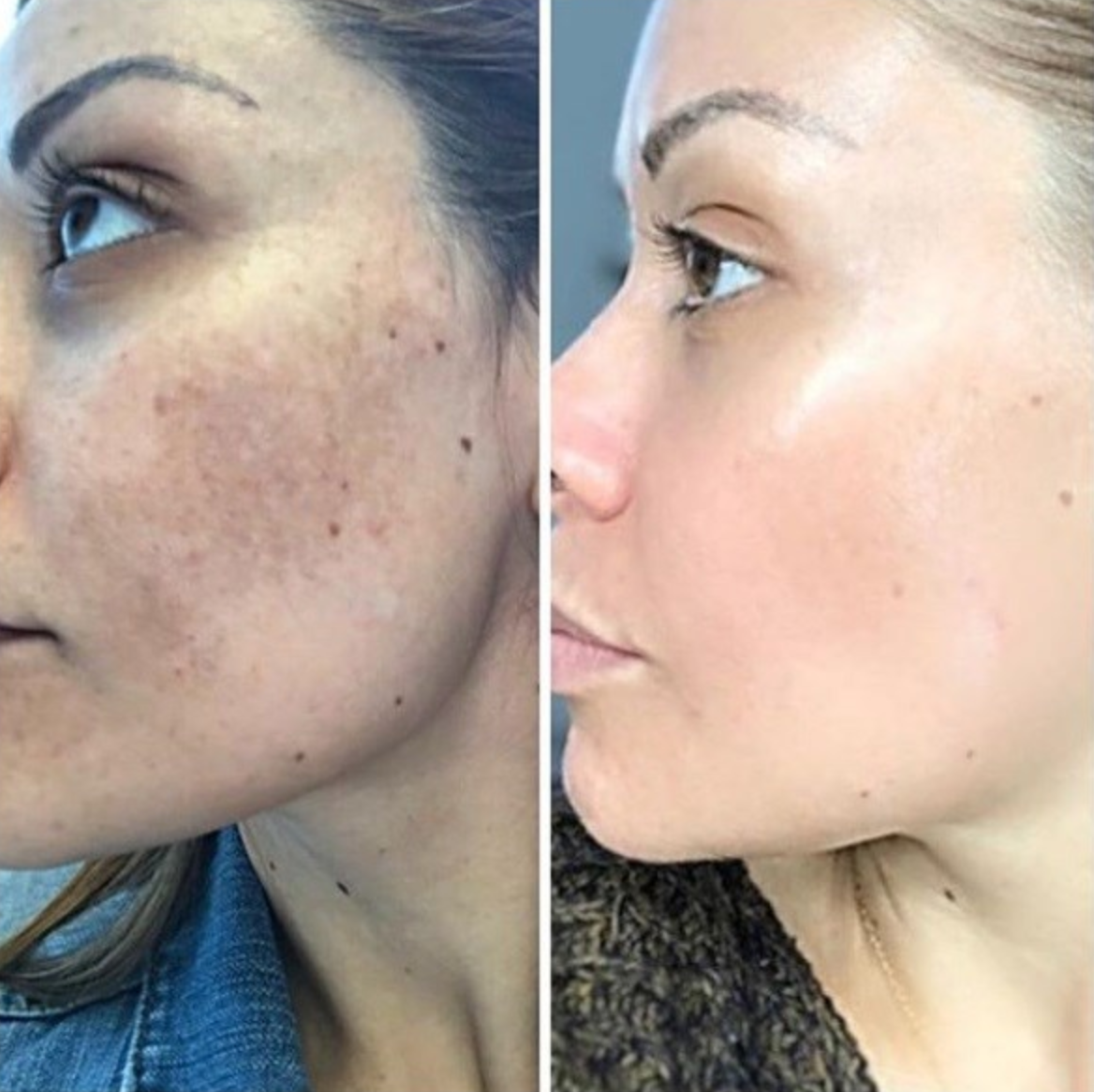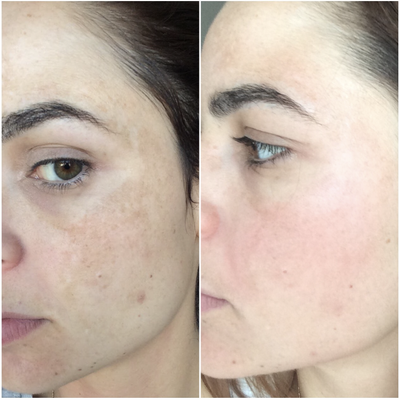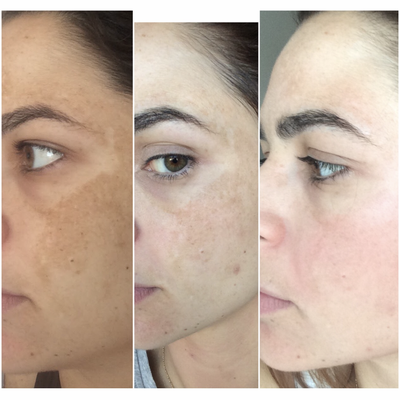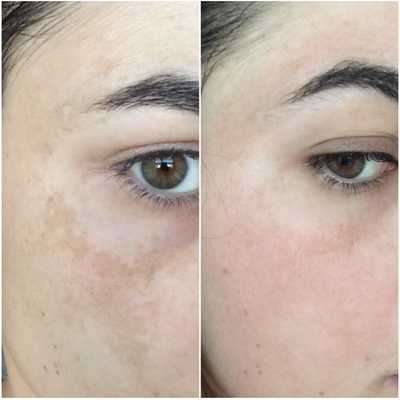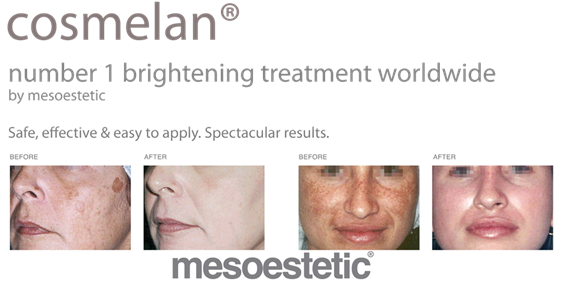 Cosmelan® Professional Treatment
---
Introducing the Depigmenting Solution by Mesoestetic®, the holy grail of all depigmenting treatments! We've got more than a million thrilled patients who can't stop raving about it. Say goodbye to those pesky freckles, age spots, and pigmentation issues with our Cosmelan peel. It's a two-phase marvel that shuts down melanin production and banishes existing pigment deposits. Don't believe us? Check out the mind-blowing before & after photos below.

Cosmelan works its magic by correcting hyperpigmentation and putting those melanocytes on a tight leash. No more dark spots popping up out of nowhere! It's the ultimate solution for anyone battling pigmentation, melasma, sun damage, or acne-related hyperpigmentation. And guess what? It works wonders on all skin tones and ages, all year round.

Enhance your treatment, select one of the following:

Hydrojelly® Mask ($25) – These masks are like the superheroes of peel-off masks. Packed with electrolytes and algae goodness, they create a vacuum-like seal to infuse your skin with nutrients. Your face will thank you for the deep absorption and heavenly hydration.

Post-Peel Crystal Fibre Mask HIGH-TECH SOLUTION BY MESOESTETIC® ($25) – This cutting-edge mask takes skincare to another dimension. Made from 3D nano-fibres, it revives your skin's cell renewal process, boosts moisture levels, and restructures the hydrolipidic film. It's like a futuristic spa treatment that fits your face like a glove.

Now, let's talk about your skin before and after the Cosmelan treatment. Before, you were on your hot girl shenanigans, jetting off to sunny vacays without care for sunscreen (mom's voice echoing in the background). But hey, you lived your best life! Unfortunately, it took a toll on your skin. Dullness, dry patches, dark spots, blemishes, and acne scars decided to set up camp. Melasma and chloasma made an appearance too, courtesy of hormonal changes and sun damage. Mama Mia!

Fast forward to after the Cosmelan treatment. You'll walk out of our spa with a dazzling complexion, bidding farewell to those pesky dark spots. You'll look younger, fresher, and more radiant than ever. And the best part? You'll save big bucks compared to those pricey laser treatments. Melasma and chloasma won't stand a chance against this powerhouse treatment!

Results? You'll start noticing blemishes fading and a brighter complexion within a week. After a couple of weeks, get ready for a shiny, healthy glow. The magic continues to work its wonders in the fourth or fifth week, unveiling the full benefits of the Cosmelan Peel. Maintain a daily skincare routine, and those smooth results will last for months to come. Oh, and don't forget to shield your delicate skin from the sun with a full-spectrum sunscreen. No more baking in the sun for you!

Perfect for diminishing dark spots, hyperpigmentation, and those pesky melasma and chloasma issues. It's a gentle procedure suitable for all skin types, so everyone can revel in its glory.

Duration? Just an hour of your precious time.

Procedure? It's a two-step extravaganza. Step 1 involves a stimulating mask applied in our cozy spa. Expect a slight tingle, but it's all part of the magic. The mask stays on for six to twelve hours, depending on your needs. We'll guide you on removing it at home and provide an after-care kit. Step 2 is the home care regimen. Bid adieu to the mask with a gentle cleanser, followed by the comforting Mesoetetic Hydra-Vital Factor K to keep your skin happy and moisturized. Peeling may start a few days later, but fear not, it's all part of the process. Apply the Cosmelan II cream two to three times a day for two weeks, and then once daily after the first 14 days.

Downtime? You'll have a week of downtime and a touch of mild discomfort, but trust us, the results are worth it!

So, are you ready to say hello to clear, bright, and envy-inducing skin? Book your Cosmelan Depigmentation Peel now and let the magic unfold!