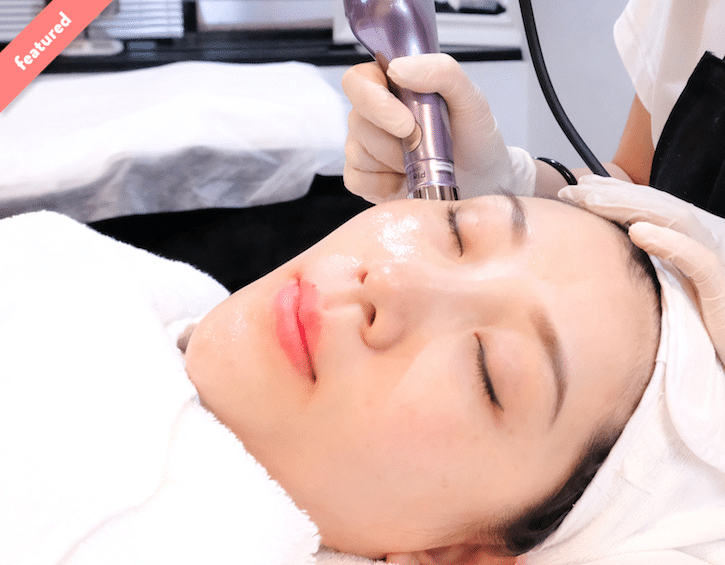 HydroGlow Facial
---
Who said that glowing and radiant skin is only for the youthful?
There is a special kind of focused attention involved in Hydrafacials that pampers as much as it helps in the recovery and revitalization of damaged skin. This is particularly so since faces are exposed to so many elements and tend to bear the visible marks of this exposure.
As a treatment that uses patented technology, a Hydrafacial cleanses, exfoliates, extracts, and hydrates the skin to achieve a clearer and more radiant appearance. It does so by targeting many of the common skincare issues from signs of ageing and dryness to discoloration and uneven skin texture. A single session is capable of facilitating immediate results with lasting effects notable with regular sessions.
The most unique aspect of Hydrafacials is that it is highly customizable to one's skin concerns while offering antioxidant protection through serums that are infused directly into your pores. Whether preparing for that special day or treating yourself to a well-deserved facial, your healthier and glowing complexion will be reward enough.
Experience firsthand the Hydrafacial difference the Enhance Arts way and say hello to the timeless indulgences of youthful skin!
Enhance your treatment, select one of the following:

Hydrojelly  ® Mask ($25) – The Hydrojelly® masks are a new generation of peel off masks.  Hydrojelly is infused with electrolytes and primarily made from beneficial algae.  The mask creates a vacuum-like seal to push all the nutrients into the skin from the Daily Botanical Serum.  It enables a deeper and complete absorption of the nourishing ingredients.  This intensive facial gives a luxurious texture while being a potent skin moisturizer.
Post-peel crystal fiber mask HIGH-TECH SOLUTION BY MESOESTETIC® ($25)  - Latest-generation face mask designed to enhance the cell renewal process, restructure the hydrolipidic film and increase the skin's moisture levels. It is made from crystal fiber a material for medical use based on 3D nano-fibers, and is 100% natural, safe and hygienic. It adapts perfectly to the contours of the face, having an occlusive effect that improves the permeability and carrying efficiency of the active ingredients.

Facial Boosters ($50) - 

Antioxidant treatment containing vitamin A, which acts on the formation and maintenance of skin tissues, preventing the formation of free radicals. Retinol or vitamin A is a liposoluble vitamin involved in the formation and maintenance of epithelial cells and the development, protection and regulation of skin and mucous membranes. It stimulates fibroblasts, inhibiting collagen degradation and facilitating neoangiogenesis by fibronectin.
YOUR SKIN BEFORE: The struggle against fine lines, uneven skin tone, and breakouts can seem like a never-ending battle, but it's one we all struggle with. Age, hormones, our diet, UV rays, and more can all impact the health and vibrancy of our skin.


YOUR SKIN AFTER: The treatment works instantly on visible pores and fine lines. Patients will immediately witness enhanced firmness and improved texture and complexion. They will also see all their blackheads vanish without a trace. You can expect to leave your Hydrafacial treatment with a brighter complexion and glowing skin.
RESULTS: Enjoy significant skin improvement and a dazzling, even-looking skin tone with just one treatment session. This comprehensive facial treatment offers these smooth, hydrating effects for around five to seven days, or even more in certain cases. Ideally, you should undergo one HydraFacial treatment monthly to attain long-lasting results and sustainable improvement in the appearance of fine lines, facial wrinkles, pigmentation issues, whiteheads and blackheads, oily skin, clogged pores, and acne.
PROCEDURE
PART 1: Cleanse and Peal The movement of the solutions during the HydraFacial MD treatment provides gentle cleansing and exfoliation of the outer, dead skin cells. This allows for a deep cleanse and peel without the irritation that is often seen with other abrasive or chemical exfoliating treatments.
PART 2: Extract and Hydrate HydraFacial MD treatment employs a soft suction during treatment to gently extract dead skin cells, oils, and dirt from your pores. This extraction results in deep cleaning of the pores without damage to the tender skin that is often caused by more aggressive extraction techniques. At the same time, your skin is bathed in award-winning serums that treat and hydrate your skin to establish a dewy, youthful look.
PART 3: Protect The clinical solutions that are applied during the HydraFacial treatment are made up of a number of superior quality compounds that are approved by the FDA to hydrate and protect your skin. Because the treatment is highly effective but gentle, there is absolutely no unsightly redness or downtime following your HydraFacial. You will walk out with refreshed, hydrated, and protected skin looking and feeling fully rejuvenated!

DURATION: 1 hour
DOWNTIME: In just around 30 minutes, a HydraFacial can give you clearer, more radiant skin with little to zero irritation, meaning virtually no downtime. If you can splurge, come once a month. Most clients come a few of days before any event!